Youth Engagement and Social Inclusiveness using Gender and Youth Ambassadors in the USAID Integrated Health Program in Nigeria
By Stella Mwita, GESI Advisor for WI-HER based in Tanzania, East Africa; and Stella Abah, Lydia Musa, and Helen John, Gender, Social Inclusion, and Community Engagement Advisors.
WI-HER, LLC, working within the USAID-funded and Palladium-led Integrated Health Project (IHP), is building the capacity of and strengthening health systems across five States in Nigeria. As a part of this work, IHP with assistance from WI-HER, is focused on building advocacy skills and awareness to encourage youth utilization of health services, particularly services related to reproductive health, to encourage healthy sexual behaviors and gender equality.
WI-HER also builds leadership competencies of local stakeholders across the five States such as with the State Gender and Youth Ambassadors (GYAs) to enhance their advocacy skills and gender-responsive outreach to adolescents and youths in their communities. The GYAs promote youth voices by inviting them to speak with State-level government representatives and Facility Management Committees to share their unique concerns around sexual and reproductive health (SRH) and general primary health care. WI-HER also convenes peer groups to support youths in conversations about their roles in society, their responsibilities in advancing equality, positive SRH behaviors, and the importance of zero tolerance for gender-based violence (GBV).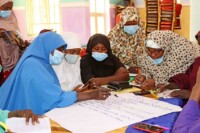 WI -HER is proud to be a part of IHP and advancing USAID's commitment to the future of Nigeria, empowering the growing youth population to be healthy and invested in gender equality and democratic principles. As the United Nations Population Fund states, adolescence is a unique period of life that "brings not only changes to their bodies but also new vulnerabilities to human rights abuses, particularly in the arenas of sexuality, marriage, and childbearing." We respond to those vulnerabilities by equipping youth with knowledge, understanding, and support, as we share in the following examples.
Youth Outreach in Kebbi State
In Kebbi State many girls are coerced into unwanted sex or marriage, putting them at risk of unwanted pregnancies, unsafe abortions, sexually transmitted infections (STIs) including HIV, and dangerous childbirth.  Yet these young girls face barriers to reproductive health information and other health and psychosocial services. WI-HER leads IHP's gender and youth inclusion, facilitates workshops on GBV and SRH, and provides skills building for girls to pursue income generating activities. Aisha, a recent participant, expressed, "I learnt about gender-based violence and the different types that exist, I will teach my peers and discourage the culture of silence when we experience GBV."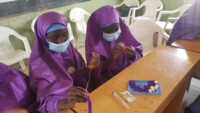 As  part of IHP's technical assistance, WI-HER also helped the local government in Kebbi State (as well as Sokoto and Bauchi States) to establish staff positions at the local government (LGA) level with training and responsibilities for engaging youth and adolescents through community outreach. These Gender and Youth Desk Officers (GYDOs), as well as their supervisors, received training on how to improve access to and quality of promotional services, including education on SRH, GBV, menstrual hygiene management for females, personal hygiene, delaying early marriage, girl child retention in school, and prevention of teenage pregnancy that can result in puerperal sepsis or fistula. As a result of this technical assistance and ongoing coaching, a total of 2,112 (1,291 girls, 821 boys) have been reached to date this fiscal year in Kebbi State.
Championing Behavioral Change in Sokoto State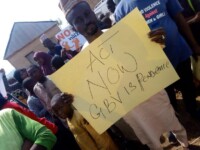 In Sokoto State, the GYAs are championing behavioral change in the health sector. 23-year-old Osama is a GYA in the Gidan Igwai community, and he works in his community to equip his peers with messages about gender equality and reproductive health. He recently shared about his experience with IHP: "I'm very happy for the opportunity that being a GYA has provided to me and my friends in our community, all the information IHP provides me have opened my eyes. Before now I just heard of GBV, but didn't know what it means; but now I have an improved understanding and am equipped to advocate against GBV. Now I know that I have a role to play to stop GBV and for change to come in my community. I will not stop until all the youth hear the steps we need to take every day in our daily live to bring social change in my community."
The youth in Sokoto make up 17.7% of the State's population, according to the NDHS 2018. Adolescents and youth are more vulnerable to GBV and human rights violations than adults, and they need information on reproductive health as well as opportunities where they can contribute to their communities' socio economic development. The GYAs help fill in this gap as they receive training in SRH, utilization of health services, psychological preparedness for adulthood, and GBV. This year IHP, with support from WI-HER, trained 20 GYAs in Sokoto as well as 21 in Kebbi and 18 in Bauchi. To date, the GYAs in Sokoto State have reached 745 adolescents and youth with messages on GBV prevention, SRH, gender equality, and child spacing.
Addressing Barriers in Bauchi State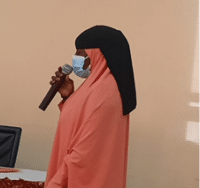 In  Bauchi State, youths face a range of barriers to accessing SRH services, including providers who are unwilling or uncomfortable providing services, fear of being seen or mistreated, and distance to and cost of services. IHP's programs address these barriers by strengthening the health systems' ability to provide integrated health services. As in the other States, the GYAs are one way IHP with support from WI-HER is working to increase youth participation in sexual and reproductive health in Bauchi. Following training and ongoing monitoring supervision, the GYAs were equipped with tools to encourage youth participation in and utilization of the health system.
To date, 569 adolescents and youths were referred and accessed various services in health facilities (FP, STI, ANC, nutrition, etc.) One of the GYAs, Ummu Abdullahi from a community called Kandaha in Bauchi metropolis, shared, "We give advice to our peers on how to avoid infections, such as HIV, STI, antenatal care and also advise especially the teenage mothers on the need for family planning, and most of them have been cooperating by going to access services at the facility."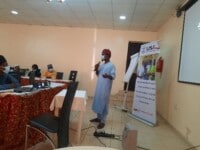 To  facilitate the sharing of learning and creating a community of practice amongst the GYAs, WI-HER assisted IHP Bauchi in forming a peer-to-peer learning exchange platform  through WhatsApp as well as providing continuous capacity strengthening around improving access for youths.
Strengthening Health Systems with GYAs
While the adolescents and youth of each State face their own unique concerns, IHP with support from WI-HER, remains dedicated to supporting adolescents and youth to stay healthy and pave the way for a brighter future for themselves and their future families. In strengthening the advocacy skills, awareness, and agency of adolescents and youths, they are better able not only to support themselves but also one another, including in utilization of health services, especially SRH services. By encouraging healthy sexual behaviors and gender equality in programming, there will be a more lasting and sustained impact.