Knowledge is Power: Protect Education from Attack
By Maddison Hall, MPH, WI-HER Program Officer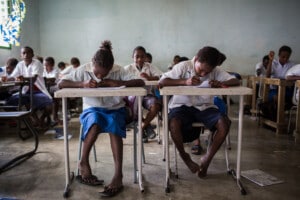 "Thuto ke maatla." In Setswana, spoken in the southern African country of Botswana, this phrase translates to "Knowledge is power." This phrase was emblazoned under the school crest of the secondary school where I taught in Tsabong, Botswana, a small town nestled in the heart of the Kgalagadi Desert. Every day as I walked into classrooms across our campus, I saw this simple phrase translated into reality, as young women and men gained knowledge and skills to help them thrive in their communities. My fellow teachers and I endeavored each day to equip our students not only with learning they could gain from books, but with skills to improve their health and relationships, enhance their confidence, and exercise their rights.
Last year, the United Nations declared September 9th the International Day to Protect Education from Attack, recognizing the injustices experienced by children across the world who are prevented from receiving an education. Children across the world face increasing barriers to education, including conflict and violence that forces schools to close, climate change and natural disasters that interrupt education, inequitable gender norms and harmful practices that prevent girls from accessing education, and inequitable access to resources and technology that are needed to thrive in schools, to name a few.
WI-HER works with our partners across the world to apply our iDARE methodology to identify and overcome barriers to educational access that undermine communities' wellbeing and health. For example:
In Ebonyi State, Nigeria, we support health workers to link adolescent and young mothers with opportunities to return to secondary school as part of antenatal care and primary health services (USAID Integrated Health Program).
In Lesotho, we prepared parents and caregivers with health parenting skills to encourage and support their children to stay in school (USAID ASSIST).
In Rwanda, we equip local implementing partners with the skills to connect children with disabilities to educational and support services in their communities (USAID ACHIEVE).
Threats to children's fundamental right to education not only expose them to risk of violence, but also prevent children from realizing their full potential and accessing their inherent power. At WI-HER, we are dedicated to ensuring all children are able to access education and thrive in a safe, accessible school environment.