The Importance of Supporting Health Workers and Health Centers
By Luseka Mwanzi, WI-HER Gender Coordinator
While National Health Center week is a celebratory week in the United States, this year's theme "The Chemistry for Strong Communities" inspired me to reflect on the global community and the incredible health centers I have had the opportunity to support to improve gender-based violence (GBV) care in Kenya.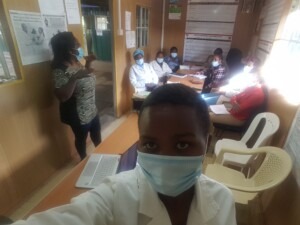 Almost everything in the world revolves around health, and GBV is no exception. However, we often forget about the health workers themselves and that providing quality GBV care can be emotionally and physically draining. Health workers not only need recognition, they also need support. It is critical to always remember that anyone may have been subjected to violence, and despite potentially experiencing re-traumatization, health workers strive to provide the highest possible care they can. While I had the opportunity to work with eight health centers in three different counties in Kenya, a facility that I would like to highlight is Nakuru Provincial General Hospital (Nakuru PGH).
Providing support to local health workers and providers, as well as health centers, improves the quality of care and service that they give to survivors. Using the WI-HER GBV quality assurance tool, I learned that there were some important components that were missing at Nakuru PGH, such as a non-discrimination policy to promote equal access for all clients and to prevent discrimination based on sex, gender, sexual orientation, race, religion, caste, skin color, disability, HIV status, marital status, or any other characteristic. With coaching support from WI-HER, the iDARE teams are in the process of putting the non-discrimination policy up in various parts of the facility, and patients and survivors are learning about it by reading the policy on the walls. The teams also developed posters and materials within the facility to give information on what services are available.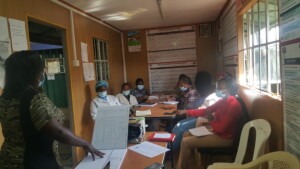 Supporting health workers by encouraging them to think through gaps in service delivery enables them to design long-lasting solutions not only in the health care facilities but also in their practice. For instance, the iDARE team realized that they had no proper way of collecting all the data, given that it is a high-volume facility and requires a structured way of collecting data. By supporting them to think through solutions during coaching, they decided to form a WhatsApp group with all the represented departments and are now using the platform to regularly collect data.
Review of performance in regard to care outcome or process indicators motivates the teams to keep improving. Further, it enables the teams to know where they are in comparison to the baseline and their progress in terms of the indicators. For instance, in the indicator GEND_GBV, Nakuru PGH was at five percent in the baseline data and has been improving over time. This result is due to the coaching; they identified problems and solutions that motivate them to better their results.
For this year's national health center week, I want to celebrate the amazing health workers, in Kenya and around the world, who work tirelessly to provide us with care and who support our global community and health through our local health centers. Thank you to all!