Treating the Silent Killer: Improving the Health Systems' Response to GBV
By Helen John, WI-HER, Gender, Social Inclusion, and Community Engagement Advisor
Globally, gender-based violence (GBV) is a persistent public health and human rights issue. In Nigeria, GBV affects one in three women and girls. Here, acts of violence cut across socio-demographic characteristics, such as geographic region, age, religion, social class, and ethnic groups. Common forms of GBV in Nigeria include intimate partner violence (IPV), physical violence, sexual violence, economic violence, psychological, and emotional violence; in addition, Nigerian cultural traditions can be harmful as well, including female genital mutilation (FGM), widowhood rites, and forced or early marriage.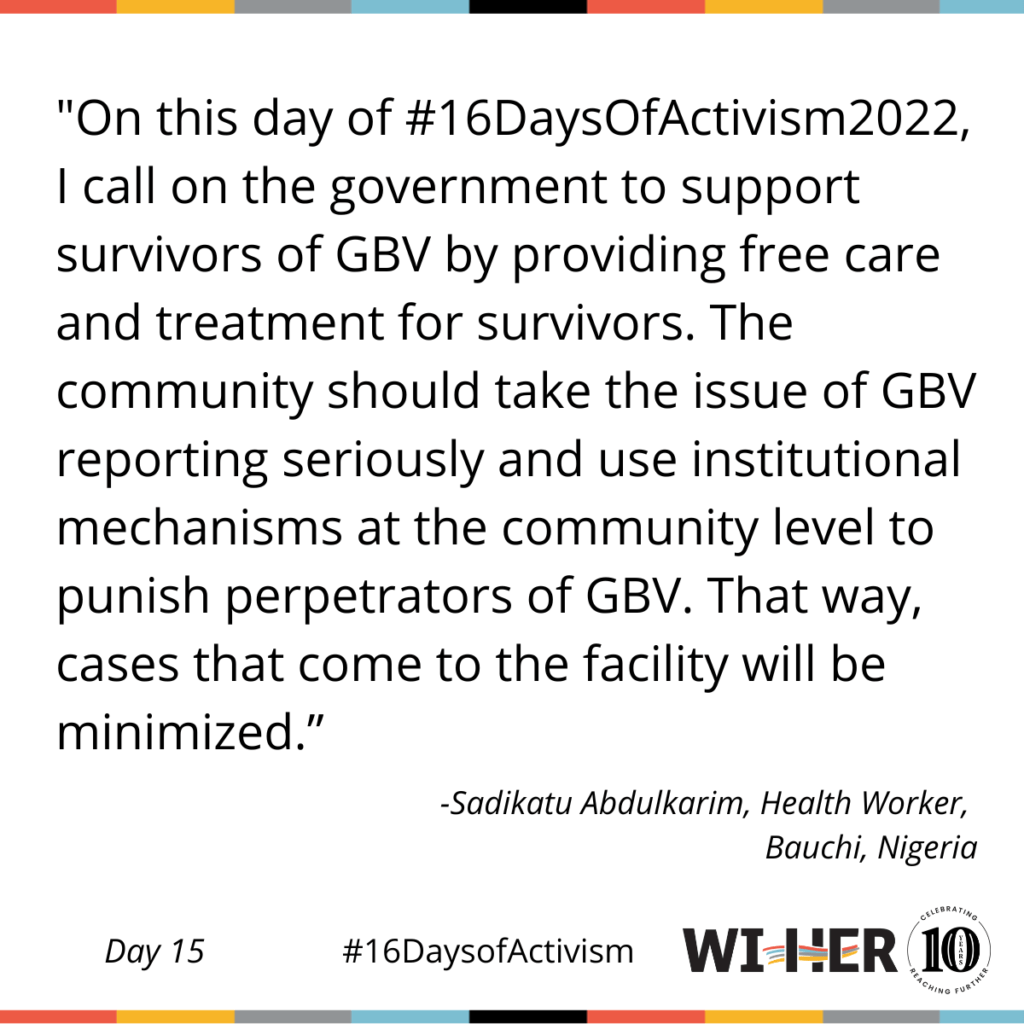 Negative health consequences of GBV are ongoing emotional health issues, such as stress, anxiety, or depression; harmful behavior such as misuse of alcohol or drugs; plans or acts of self-harm or (attempted) suicide, injuries that are repeated or not well explained, repeated sexually transmitted infections, unwanted pregnancies, unexplained chronic pain or conditions, and repeated health consultations with no clear diagnosis. Furthermore, GBV not only negatively impacts the well-being of survivors and their families, but it also affects the long-term human capital potential of survivors. It reduces labor market participation and civic activities and bears a high cost to communities.
Every year, the 16 Days of Activism against Gender-Based Violence (GBV) campaign kicks off on November 25th, with the day set aside as the International Day for the Elimination of Violence Against Women, and concludes on December 10th with World Human Rights Day. Every day during the 16 days draws attention to a specific issue in relation to GBV, including World AIDS Day.
This year, USAID's Integrated Health Program (IHP) in Nigeria joined the commemoration activities to shed light on and combat GBV in all its forms. In consultation and partnership with the Federal Ministry of Health (FMoH), IHP co-adapted and contextualized Nigeria's National GBV Training Materials based on the World Health Organization (WHO) international standard curriculum. Utilizing the materials to commence a large-scale GBV training across three states in Nigeria, including Bauchi. In Bauchi, after the completion of the training of trainers for 36 GBV trainers, those trainers turned around to cascade the training to 600+ health workers from 323 primary healthcare centres across the state. The trainings enhanced provider capacity to identify, care for, refer and document incidences and care for survivors of GBV. Through the focus on comprehensive documentation, the providers across the state strengthened the standard operating procedures for data collection and reporting at the health facility level to improve the epidemiological measurement of the GBV issue, identify resource gaps, and define GBV stakeholder engagement. On-the-job mentoring for service providers and development of a GBV referral directory to link survivors to additional services has built on the success of the GBV training, allowing IHP to comprehensively and competently address GBV within the healthcare sector. IHP has supported the facilities to report 1,469 cases submitted to the National Health Management Information System (NHMIS) platform in FY22, a 75% increase from FY21 (N=840)​.
Addressing GBV has been linked to positive health outcomes for women and children, increased economic activity, and helps the world get closer to achieving the Sustainable Development Goal 5, achieving gender equality and empowering all women and girls. To achieve this, we must work toward providing quality and comprehensive services to survivors. The negative impacts of GBV can effectively be improved upon through consistent capacity development, quality improvement, and stakeholder engagement.
As we conclude the 16 Days of Activism campaign for yet another year, it is clear that no time should be lost in taking comprehensive and concrete action against the fight to end GBV.
On this day of #16DaysOfActivism2022, I call on the government to support survivors of GBV by providing free care and treatment for survivors. The community should take the issue of GBV reporting seriously and use institutional mechanisms at the community level to punish perpetrators of GBV. That way, cases that come to the facility will be minimized

Sadikatu Abdulkarim- Health Worker, Bauchi