The New Hire Onboarding Experience
How WI-HER integrates diversity, equity, social inclusion, and belonging principles into the onboarding process.
By Stacey Nandudu, WI-HER Diversity, Equity, & Inclusion Coordinator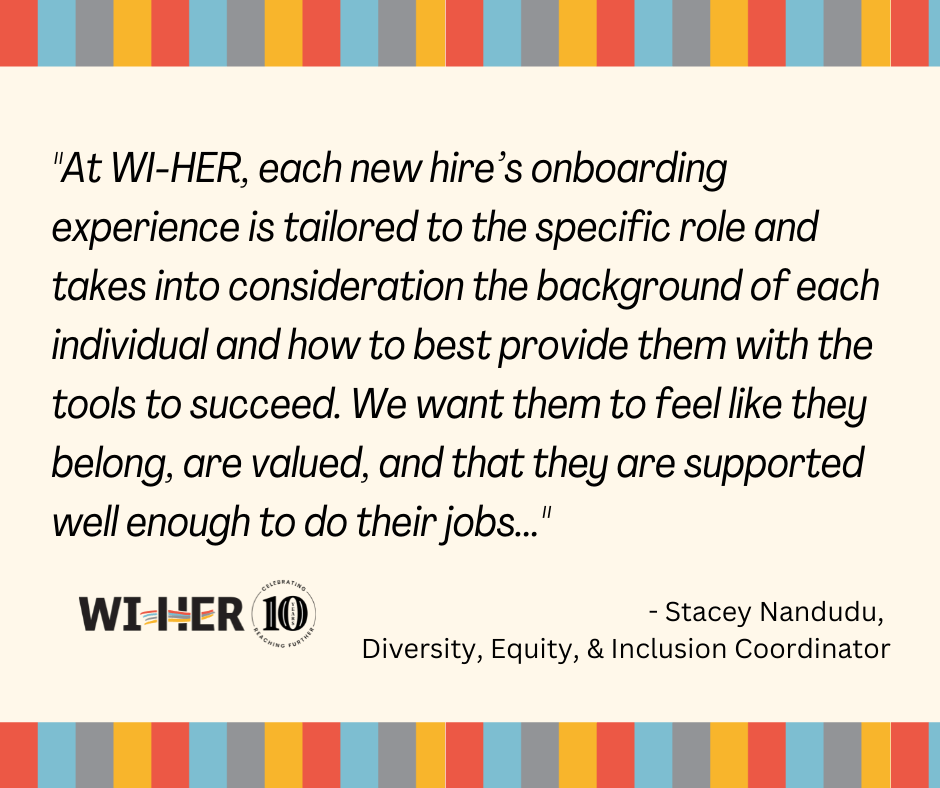 Joining a new organization and getting acquainted with new processes and systems can be overwhelming. Setting up an on-boarding process that alleviates uncertainty and helps new hires settle into their new position is critical. Typically, the HR team works with other members of the organization to facilitate a smooth transition for new hires. Setting clear and specific expectations of new team members and being available for questions are integral to a successful first few weeks.
At WI-HER, we are committed to advancing racial and ethnic equity (REE) through all our processes beginning with recruitment and onboarding. Our HR and Operations team spearheads this process and ensures that we remove barriers while also providing opportunities to a diverse pool of candidates. Starting from recruitment, the HR team collaborates with relevant teams to develop an inclusive and transparent road map and hiring process. We also regularly measure how we are doing as an organization by conducting regular check-ins, training, performance management tracking, and open, transparent communication. Our goal is to ensure that our staff, including new hires, feel respected, valued, and have a sense of belonging.
Working with a fully remote and diverse team from different cultures, backgrounds, experiences, and perspectives makes understanding the organization's culture difficult. This is especially true if the on-boarding process focuses on the first few days and doesn't include initiatives that foster socialization with other staff members.
At WI-HER, each new hire's onboarding experience is tailored to the specific role and takes into consideration the background of each individual and how to best provide them with the tools to succeed. We want them to feel like they belong, are valued, and that they are supported well enough to do their jobs, especially at the beginning of their careers at WI-HER.
Our HR team frequently communicates with the new hire and informs the entire team of the new hire before they join the organization. The HR team also sets up an informal coffee date in the first month of employment so that the new hire can get to know other team members and participate in fun team building activities. These different measures that we apply across the entire onboarding process help the new hire gradually understand WI-HER values and strengthens their identification with the organization through structured social activities and the buddy system; this is a relationship-building process that involves the assigning/volunteering of an existing staff member to help the new hire feel welcome and answer any and all questions they may have about navigating the organization's culture.
Prior to the new hire's first day, an internal onboarding checklist and a new hire checklist are designed and developed. These checklists are collaborative tools used by HR and the relevant hiring managers to develop a series of technical sessions and meetings that the new hire will attend through the entire onboarding program. This process ensures that any information gaps are filled and that the new hire understands how the organization and its processes work. These sessions are broken down so as not to overwhelm the new hire with information.
A resource folder, which contains all the information about the company, policies, previous presentations, and any relevant resources, is also created and saved in the new hire checklist. HR schedules meetings for all performance review specific meetings, such as goal setting and probation period, so that both the new hire and manager are aware of the end date and the timeline. Meetings are also scheduled with the President, hiring managers, and the assigned orientation buddy who helps to answer any questions the new hire might have and helps them feel like they have not been abandoned. Once the new hire officially starts at the organization, they will have an already booked calendar for these pre-scheduled meetings and access to a resource folder.
First 90 days
HR leads the initial onboarding meeting and shares the new hire onboarding checklist that guides the new hire through the first 90 days. The new hire attends all booked meetings and sets up weekly check-ins with their manager. The manager's role in these meetings is to set the right context, explain the role clearly, and set expectations so as to find out and support the new hire's future interests.
Feedback
After one month on the job, HR follows up with a meeting with the new hire and their manager to gain feedback on how to make the onboarding process better. HR continues to follow up each month on development plans based on knowledge gaps and coordinates with the manager and the leadership team to provide adequate resources, time, and feedback. The new employees are also trained on organizational operational aspects such as compliance, policies, ethics, and values; and mentoring opportunities are provided if needed. This regular and continuous feedback helps our team to review, monitor, and evaluate the process and adapt to make sure we continue to create a culture that fosters strategic diversity in thoughts, experiences, background, and expertise.