Gender-Based violence and REDD+ in Fiji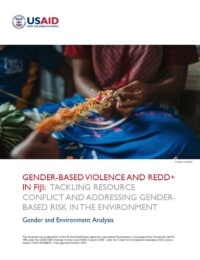 WI-HER, along with partner Marstel Day, was one of the first winners of the USAID Resilient, Inclusive, Sustainable Environment Challenge (RISE, 2019-2022). RISE was created to 1) spur greater awareness on the intersection between environmental conservation and gender-based violence (GBV); 2) test and measure approaches in environmental programming that address GBV; 3) share evidence of effective interventions and policies; and, 4) amplify the linkage between environmental conservation and GBV to attract commitments from other organizations.
Working with partner Marstel Day, WI-HER led the adaptation of the UN/World Bank REDD+ program's Feedback and Grievance Redress Mechanism (FGRM) to respond to gender-based risks and incorporate protections against GBV. To inform adaptations in the mechanism, WI-HER led this Gender and Environment Analysis in Fiji to synthesize desk-based research and first-hand qualitative information from key stakeholders and Indigenous iTaukei communities affected by and participating in REDD+. Applying WI-HER's iDARE methodology, WI-HER and Marstel Day disseminated the analysis findings and collaborated with Government of Fiji stakeholders to ensure the voices of iTaukei populations guided the redesign of the FGRM so it better addresses, incorporates, and responds to gender-related risks and refers incidences of GBV to REDD+ activities.