USAID IHP creates open discourse on menstrual health and gender-based violence with adolescent girls for the 2022 International Day of the Girl Child
By Emilia Okon, WI-HER Gender, Social Inclusion, and Community Engagement (GSI&CE) Advisor and Krista Odom, WI-HER Senior Associate, West Africa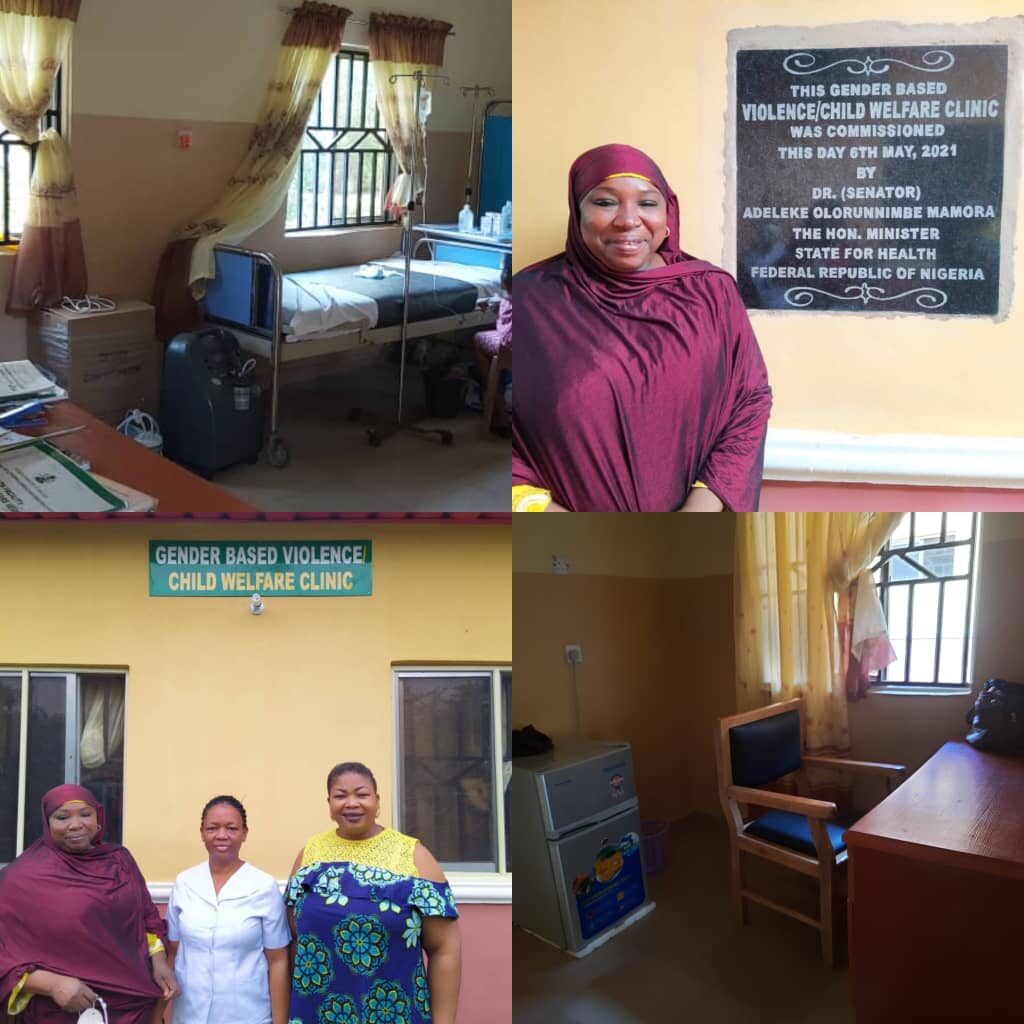 Since 2011, the United Nations General Assembly has celebrated the International Day of the Girl Child to recognize girls' rights and the unique challenges girls face around the world. The international day of recognition is designated to focus attention on the need to address the unique challenges girls face and promote the empowerment of girls. Menstrual hygiene and gender-based violence (GBV) are both important for girls to be knowledgeable about, especially as they are reaching adolescence; however, both topics are often considered taboo and, as such, are often not discussed publicly.
Due to the gap in knowledge from lack of open discourse on the topic, most adolescents, both male and female, are bereaved of knowledge about menstrual health as well as GBV in its various forms, leaving a gap in knowledge and reinforcing the cycles of shame associated with menstruation and GBV. While both adolescent girls and boys lack access to correct and appropriate information on sexual and reproductive health information—including sexual education opportunities related to prevention of unwanted pregnancies, and GBV in Nigeria—this topic is especially important for adolescent girls given that one in three women will experience GBV in Nigeria and nearly 100% will experience menstruation. So while it is important to include men and boys in the conversation, the taboo around discussing menstruation and GBV, especially in mixed company, continues to create a barrier for open and honest discussions. By holding the spaces for girls to feel safe and empowered to discuss their health concerns without males present, there is a better opportunity to address gaps in information on menstrual health, identify GBV, and provide resources for seeking care for GBV.
By creating spaces for open discourse, honest discussions can be held on the unique health issues girls face, including topics that are especially timely for secondary aged children. Unwanted pregnancies, lack of educational opportunities, gender-based inequity, and stigma are risk factors associated with GBV, a human rights violation and barrier to health, happiness, and economic opportunities. Risk factors associated with both high levels of GBV and poor outcomes for sexual and reproductive health, such as unwanted pregnancies, overlap in socioecological areas such as education, gender equity, and economic access. In Ebonyi, Nigeria, there is a high prevalence of the socioecological risk factors associated with both GBV and poor outcomes for sexual and reproductive health, such as unwanted pregnancies; those risk factors include low levels of education, high disparity in gender equity, and poverty.
In Ebonyi, over 40% of the population is under the age of 15, and the primary ethnicity is Igbo, according to the 2019 National Population Commission. Ebonyi State struggles to match the levels of development in neighboring states in southern Nigeria, with 20.1% of the Ebonyi population in the lowest wealth quintile compared to an average of 0.9% across the other four states in southeastern Nigeria—Abia, Anambra, Enugu, and Imo. Women and men in Ebonyi experience entrenched gender norms that restrict women's opportunities and access to resources, education, and economic opportunities. In Ebonyi, 23% of the population have no education, and 6.2% of women own assets alone or jointly compared to 12.9% of men. It is no surprise, given the developmental lag in Ebonyi, that 44% of women between 15- to 49-years-old have reported experienced physical and or sexual violence, well above the national and global average.
To address the gap in adolescent girls' knowledge in menstrual health and GBV, USAID's Integrated Health Program (IHP) in Ebonyi, Nigeria, held an event for the 2022 International Day of the Girl Child. This year's theme for the event, "Our Right, Our Future," aptly supported the IHP Ebonyi's International Day of the Girl Child event's topics. In collaboration with the Ebonyi One-Stop-Shop Centre for Women and Girls, IHP aimed to increase sexual and reproductive health knowledge, reduce stigma around discussing menstruation, and improve menstrual hygiene practices among adolescent secondary school girls while also providing information on GBV and sharing local resources available to survivors of GBV. The schools involved were Great Minds Academy Secondary School and Nnodo Secondary School, both in Abakaliki, Ebonyi.
During the sessions on menstrual health, the appropriate methods of hygiene were explained, as was the connection between menstruation health in relation to family planning. The girls also received free sanitary napkins with instructions on proper use. The girls had an opportunity to ask questions about menstruation and how to care for themselves while experiencing menstrual flow. They also discussed extensively what options they have regarding items that can be used while experiencing menstruation, considering the high poverty rates in Ebonyi State.
Along with education on menstrual health, the students were sensitized on GBV. The GBV sessions featured IHP-trained health workers who provided comprehensive and age-appropriate information on GBV, including the different forms of GBV and GBV reduction strategies, and staff of the One-Stop-Shop Centre for Women & Girls discussed extensively how they care for survivors at the centre. This gave adolescent girls an opportunity to learn first-hand that there is a centre where survivors can seek assistance when they experience GBV.
IHP's International Day of the Girl Child ensured that the 60 adolescent girls in attendance received correct and useful information on sexual and reproductive health, including menstrual health, and a sensitization on forms of GBV and local resources for survivors. The young girls also received sanitary napkins to allow them to appropriately practice menstrual hygiene. The anticipated impact of better menstrual hygiene and increased sexual and reproductive health knowledge includes lower rates of infection due to inappropriate menstrual hygiene practices, lower rates of school days lost due to monthly menstrual cycle, and lower rates of adolescent pregnancy. Potential anticipated impacts from GBV sensitization include lower GBV incidence due to mitigation strategies and an increase in GBV case reporting and care.
This has become an annual event with the One-Stop-Shop Centre for Women & Children. IHP will continue to support partner organizations to mark international events related to health and gender equity.
"I am learning for the first time that there is a place where young girls can receive free GBV service in Abakaliki. Thank you for telling us this information."

Student, Great Minds Academy Secondary School