Act to End NTDs | East Program Desk Review on Gender Issues Affecting Neglected Tropical Diseases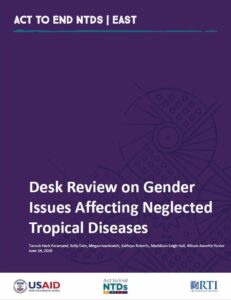 Neglected tropical diseases (NTDs) are a category of diverse communicable and treatable diseases that affect more than one billion of the world's poorest populations, primarily in sub-tropical settings in Africa, Asia, and the Americas. This report focuses on the five NTDs—onchocerciasis (OV), lymphatic filariasis (LF), soil-transmitted helminths (STH; comprising hookworm, roundworm, and whipworm), trachoma, and schistosomiasis (SCH)—that can all be targeted by distributing preventive chemotherapy (PC) to populations living in endemic areas. NTDs are both a result and a cause of poverty. They severely impact physical health, cognitive development, and nutritional status for individuals and can cause severe disfigurement, long-lasting or permanent disabilities, and social stigma, which in turn leads to
economic hardship. Sustainable control and elimination of these five NTDs by country-led and country financed NTD programs is the goal of the United States Agency for International Development's (USAID's) Act to End NTDs | East Program, led by RTI International.