WI-HER Shares about Gender Equity and Social Inclusion in Global Health Supply Chains at an IAPHL Webinar and Skills Building Workshop
Vienna, VA – September 8, 2022 – Earlier this summer, WI-HER co-facilitated a discussion on IAPHL with partners JSI and inSupply Health about gender equity and social inclusion (GESI) in the supply chain. In the course of the discussion, it became clear that while there was interest in the topic, more discussion, and skills-building were needed. As a follow-up, WI-HER was invited to continue to share and discuss the application of GESI in the health supply chain, with an additional supplemental opportunity for skills building.
This Thursday, September 15 at 8 am ET (check your local time) WI-HER will join IAPHL forthe Gender Equity and Social Inclusion in Global Health Supply Chains webinar.This interactive webinar will explore how integrating and mainstreaming GESI into supply chain management and functions can contribute to improved health outcomes for all, as well as discuss challenges and opportunities to integrate GESI into global health supply chains through panel presentations and break-out discussions.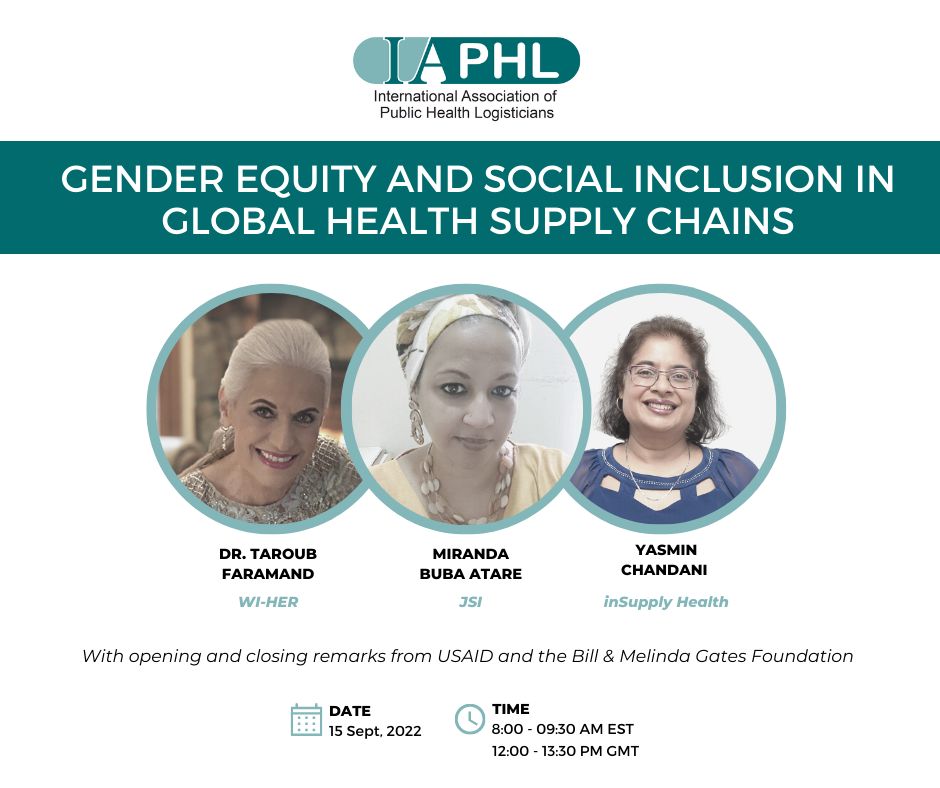 The webinar will feature subject matter experts, including moderator Miranda Buba Atare, Supply Chain Program Manager at JSI, and panelists Dr. Taroub Harb Faramand, President and Founder of WI-HER, and Yasmin Chandani, CEO of inSupply Health, LTD. The webinar will have opening remarks from Tiffany Marshall, USAID, and closing remarks from Kelly Hamblin, Bill and Melinda Gates Foundation.
This webinar will also act as a precursor to a virtual skills-building workshop for IAPHL members to further discuss the foundational elements and application of GESI tools for advancing health supply chains. The workshop will take place over the course of three weeks, beginning Thursday, 29 September 2022. There are only 20 slots for participation, so all those who are interested are encouraged to apply by 20 September using this application form.
Learn more about how to join these conversations: https://iaphl.org/news-events/webinar-announcement-gender-equity-and-social-inclusion-in-global-health-supply-chains/
---
About WI-HER, LLC WI-HER is a woman-owned small business with ongoing programs in sub-Saharan Africa, Asia and the Pacific, Middle East and North America, Europe and Eastern Europe, and Latin America. With more than 75% of staff located in the global south, the WI-HER team understands the nuances of working in different contexts with women, men, youth, orphans and vulnerable children, the LGBTQ+ community, hard-to-reach groups, and those in conflict areas. Our diverse team of professionals facilitates development solutions that are locally led and driven by the countries, communities, and people with whom we work. Since 2011, WI-HER has supported local partners to design and implement contextually appropriate, creative, and integrated solutions to complex development challenges in 56 countries. WI-HER is an established leader in gender equity, youth, and inclusion (GYSI); monitoring, evaluation, research, and learning (MERL); localization; and capacity development.