Improving Services for Survivors of Gender-Based Violence: Lessons Learned During Virtual Engagements During the COVID-19 Pandemic
By Luseka Mwanzi, WI-HER Gender Coordinator
When COVID-19 began in China in late 2019, Kenyans thought it was far-fetched. They never imagined that we as a country would be affected. Reality hit March 16th, 2020, when the president ordered that all schools be closed, and many students began to learn from home. Institutions and companies also introduced working from home. It was no different for the rest of the WI-HER team around the world.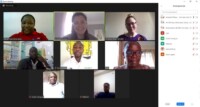 However, despite the restrictions in place in regard to movement, health care was needed more than ever. In Kenya, like other countries around the world, many experienced an increase in gender-based violence (GBV). Through the USAID Afya Nyota ya Bonde Project (2018-2021), WI-HER was contracted to support improving support and care for survivors of GBV. The original plan was to train county government trainers to support and supervise facilities in their counties in the implementation of WI-HER's iDARE methodology; this was no longer possible with the lockdown. GBV continued to rise in communities, especially among children and women, and facilities were overwhelmed. WI-HER had to work fast to redesign a plan that ensured men, women, and children subjected to all forms of GBV were able to be identified, screened, and provided with direct services, including counseling at facilities with catchment areas of estimated high violence.
WI-HER adapted in-person GBV training to an online training using an innovative, phased approach in order to achieve rapid improvements in GBV identification, clinical care, and management in select facilities. The innovative online training was designed to be highly interactive with specialized breakout and coaching sessions. Trainings were followed-up with individual coaching for participants from facilities in each cohort. The training was designed to be low-dose, high-frequency in order to reach 28 training hours over the course of a six-week period.
After conducting the training on GBV, it was important for us to provide support to the teams so that they could continue doing the good work for which we had trained them. This once again had to be done virtually due to the lockdown and COVID-19 protocols and restrictions that had been set in place. WI-HER worked together with the facilities and county government to upgrade Kenyan GBV tools to meet international standards. Due to this support, the eight facilities in Nakuru, Kajiado, and Laikipia counties increased the identification and management of GBV survivors by 641% in just 10 months. Prior to WI-HER's support, the facilities were only identifying and managing sexual GBV, but they began to identify all four forms of GBV after the first training session. Even more notably, the facilities increased the identification and management of male survivors of GBV by 2,176%! These results are despite the many challenges the health workers faced: lockdowns, COVID infections, a strike, and more.
As the iDARE coach for the facilities, I learned to overcome many expected and unexpected challenges related to supporting teams virtually. To achieve successful virtual coaching engagements, it was important to;
Sensitize the participants on the virtual platform.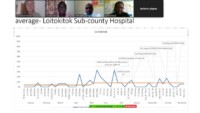 Most people are not tech-savvy and therefore have little or no idea at all what should happen during a virtual coaching session. Therefore, it is important to check with them so that they know how to use different functions (e.g., speaker and video functions, raising hand function, how to use the chat function, and how to hold discussions in the chat room, etc.) Sensitization on etiquette, such as raising their hand is also important. This ensures that everyone feels comfortable in participating openly, and they do not feel held back by the technology.
Make the session engaging and interactive.
While the participants should volunteer ideas, as a coach facilitating the virtual session, you should encourage people to speak and always be on the lookout for signs that someone is getting ready to comment or ask a question. Check the participants list to see who unmutes; they may want to say something but are unsure if they should go. Also check who is raising their hand or asking a question in the chat.
Always use video during a gender-based violence training.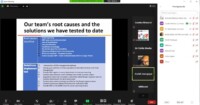 Anyone may be or have been subjected to violence. A training on GBV can be re-traumatizing for anyone; it is important to remember that health workers are not immune! While video does take up extra bandwidth, it is essential to have face-to-face contact to watch out for signs of a participant experiencing re-traumatization. If and when this happens, the training should be stopped and support should be immediately given to the individual. It is important to have a team of facilitators to watch for signs and provide necessary support.
Check in with your team members from time to time during virtual engagements.
Ask them to contribute or share their thoughts. During virtual coaching sessions, the focus is mostly on challenges and solutions in care provision. Video is encouraged but does not need to be on unless covering actual GBV content. Some participants may be in and out of the session, others may not concentrate for long. If you don't keep checking, you may end up holding a session without the entire team.
Check with the participants what time works best for them.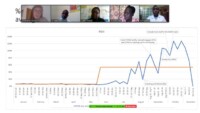 While a team leader at a facility can easily organize and mobilize their colleagues/iDARE team members for a coaching session, it becomes more challenging when bringing multiple facility teams together. This is very important because if timings do not marry, you will not have the session. Facilities have different times depending on what time they have less workload. It is also important not to assume that a time that works for one facility should therefore work for another. Facilities vary depending on size and location as well as culture.
Inform the supervisors and medical superintendent that a virtual session will take place and encourage them to join.
This is paramount so that the supervisors can allow the teams to have their sessions. Otherwise, if the plan to have a virtual session is not conveyed, you will be frustrated when supervisors say they are not allowed. It is important to communicate via a phone call or email, and follow up a day before the virtual session takes place so that they are ready.
Create a clear schedule for the virtual coaching.
Plan to develop a schedule with the team members. In doing so, the team as well as the supervisors are aware of their virtual coaching days and dates. Ask the team leader to pin the schedule up on their notice boards, changing rooms, or wherever they meet and others are highly likely to see the schedules. Make sure the writing is legible from a distance and play around with colors to catch their attention. In the schedules, make sure the dates, days, and duration are clearly indicated.
Be conscious of time.
Most of the facilities are busy and since you are not in the session in person, individuals may get distracted and go back to their duties before the session has concluded. Do your best not to keep them in the coaching session longer than 40 minutes. It is better to have shorter, more frequent sessions than longer, less frequent sessions.
Encourage participants to identify a quiet room with no or minimum destruction.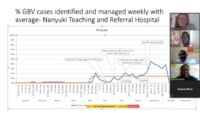 Recommend places for participants to participate in the virtual session; they can use board rooms or cluster rooms. This is very important so that they are able to concentrate fully throughout the session. For example, if they hold the session in a room just opposite the Out Patient Department, patients may peep in, making the participants uncomfortable because the patients will think they do not want to attend to them; or other colleagues will keep opening the door and calling the participants, making it impossible to successfully have the coaching sessions. Rooms that are further away or those that have privacy are better for holding virtual coaching sessions. Participants can also join the coaching session separately in case coming to a central location is an issue or there are too many participants, making meeting in person unsafe or making it difficult to meet COVID safety protocols and regulations.
Always receive a copy of the data, including any notes, from the facility.
Maintaining and keeping data and notes is very important, and data from the source (the facility) is the most accurate. Additional data collection required for programmatic needs (which goes beyond standard service delivery and HMIS data) is an additional burden for health workers and should be avoided. You can use the information received to verify the data when you visit the facility in person.
After coaching, debrief the supervisors and medical superintendents.
It is essential to always keep supervisors engaged and aware of the progress of the teams, especially if they are unable to attend coaching sessions. You need to keep them updated on what is going on, the progress, and next steps. Always ensure they are aware of the future coaching schedule, most recent results, and if there have been any changes.
Ensure they have data bundles and that they are not spending their own money.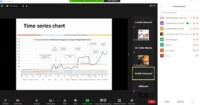 Always remember not to make the team members spend their own money on the virtual coaching sessions. Always cater for data bundles, airtime, etc. in advance. If you do not have data bundles or internet is shaky, make a voice call through one of the participants' phone and have them put you on speaker.
Always have an open feedback loop from the teams.
We are there to support health workers in improving their daily work and the services they provide. It is essential to not be an additional burden on the teams, and it is important to establish an open feedback loop, because this is where they get to raise their concerns, e.g., change of coaching dates, coaching times, etc.
Pros for Online Training
It is a learning experience that goes beyond service delivery! Many people are now more conversant with technology platforms, such as Zoom.
Virtual sessions have made it easier to check in on teams; rescheduling becomes easier, and there are no transportation costs or wasteful spending in case the team needs to reschedule an in-person meeting at the last minute.
Reduces the risk of contracting COVID-19.
Cost-efficiency: due to the virtual setting, we were able to engage global and regional experts in GBV care and management during the training, coaching sessions, and cross-facility learning sessions.
Cons for Online Training
Verifying facility data is challenging as you cannot access the registers in person to confirm numbers. A coaching session should never happen without data, otherwise it is impossible to discuss the teams' progress, identify new or existing root causes, and brainstorm new solutions.
Concentration of some participants is low in virtual sessions as external distractions are more difficult to control.
Rescheduling sessions occurs more frequently with a virtual setting.
Internet network issues can cause coaching sessions to be not as helpful. Some places have poor network coverage, and bad weather can also contribute to poor networks. Coaching sessions should be an open, free discussion, and poor network coverage inhibits brainstorming and causes frustration, etc.
Key Learnings from Virtual Engagements During the COVID-19 Pandemic
It is important to be ready to adapt to changing times. Since the time COVID-19 hit the country, the teams have adapted to virtual settings.
Interactive coaching sessions are important. For example, I always let one of the team members, preferably the team lead, lead the coaching sessions. Furthermore, (s)he involves the other team members by asking them to explain a particular solution further. This keeps the members engaged in the coaching.
Planning is essential. If there is no coaching schedule for the facilities to follow then there will never be a coaching session. They will continue to postpone if there isn't a schedule or plan in place.
Communication is key. Keeping the supervisors and medical superintendents in the know is vital. Also, reminding the teams about their session a day prior prepares them in advance.