Revitalizing and Building the Capacity of the State Gender-Based Violence Technical Working Group in Kebbi, Nigeria
By Stella Abah, WI-HER Gender, Social Inclusion, and Community Engagement (GSI&CE) Advisor, and Dr. Adamu Nuhu, USAID IHP Kebbi Director
Gender-based violence (GBV) is a life-threatening issue that impacts health and violates international human rights law, and principles of gender equality. It is also a threat to lasting peace and an affront to our common humanity. According to the 2018 Nigeria DHS, 32% of women who have experienced physical or sexual violence have sought help to stop the violence, while 55% have never sought help or told anyone about the violence. Unfortunately, according to a report in the Journal of Contraception, negative social norms that condone or support violence against women and girls (VAWG) and harmful practices remain pervasive in Nigeria, where three in ten Nigerian women ages 15 to 49 have experienced either physical or sexual violence.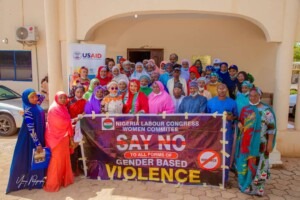 Although girls and women are disproportionately affected by GBV, men and boys also experience its detrimental effects. The effects of GBV go further than just poor health outcomes for women, girls, men, and boys – it thwarts development and prevents those affected from reaching their full human potential. Without sustained and effective interventions, this reality is likely to increase, particularly in Nigerian States like Kebbi, where there are limited resources, less access to education, and deeply entrenched cultural norms that often suppress women's agency.
The USAID Integrated Health Program (IHP) recognizes violence in all of its forms as human rights violations and a serious impediment to health. IHP is committed to supporting Kebbi's efforts to prevent and respond to GBV through the engagement of State level actors prioritizing GBV; through policies of stronger coordination, documentation, and survivor protection; and building system capacity at the State and primary healthcare (PHC) level for prevention, response, and referral.
To this end, IHP, with technical assistance from WI-HER, has supported Kebbi State's Ministry of Women Affairs and Social Development (MOWASD) to inaugurate and revitalize its GBV Technical Working Group (TWG), a multi-sector coordinating body with the mandate to strengthen GBV prevention and response. Since its revitalization, the TWG has committed itself to combating physical, sexual, and psychological violence. It works to ensure a multi-sector, coordinated approach to the provision of accessible, prompt, confidential, and appropriate services to survivors of GBV and their families. To support and monitor these goals, IHP – with support from WI-HER – provided monthly coaching and mentoring calls with members of the GBV TWG, as well as conducting in-person quarterly learning exchanges of best practices.
"I encourage all women who face violence to speak up and get help before it is too late, keeping quiet means a death sentence." – GBV TWG member Rashidat Olowu
As a result of this support, in Quarter 3 the GBV TWG responded to five cases of GBV involving minors. Since the TWG steers multi-sectoral action, both police and judicial bodies were engaged immediately to ensure the safety of the five minors and to pursue legal action against the perpetrators. The TWG members expressed satisfaction in the quick and coordinated response, an improvement from previous delays and gaps in documentation and follow-through.
Furthermore, the Kebbi GBV TWG has identified organizations and points of contact across health, housing, psycho-social organizations, police, the judicial system, and other relevant support services to create a Referral Directory. The TWG will continue to develop and institutionalize a Referral Pathway that standardizes guidance for coordinated response among those organizations and directs timely, respectful case management to protect and support GBV survivors.
Addressing GBV is a significant, long-term development challenge. Failure to act against GBV represents a failure by humanitarian actors to meet their responsibilities for promoting and protecting the rights of the populations they serve. Recognizing the scale of the challenge, IHP will support the GBV TWG in multi-sectoral collaboration with broader stakeholders in Kebbi to strengthen approaches and learning best practices to test and advance effective approaches in regard to preventing and responding to GBV. Together we can end GBV in Kebbi.
IHP seeks to contribute to State-level reductions in child and maternal morbidity and mortality, and to increase the capacity of health systems (public and private) to sustainably support quality primary health care (PHC) services for reproductive health/family planning, maternal, newborn and child health, nutrition, and malaria (RMNCH+NM) across five Task Orders in Nigeria (Bauchi, Sokoto, Kebbi, Ebonyi, and Federal Capital Territory). IHP is Palladium-led, with consortium members including Jhpiego, WI-HER, PharmAccess, Avenir Health, and Viamo.