Gender Integration in Quality Improvement
By Taroub Harb Faramand, MD, MPH on May 26, 2012
The USAID Health Care Improvement Project (HCI) contracted WI-HER LLC to support the project's efforts and provide technical assistance in integrating gender into HCI programs. With assistance from WI-HER, HCI initiated intensive and focused effort to work with HQ and field staff to enhance their skills in gender considerations as an integral component of the quality improvement process and not as stand-alone activities.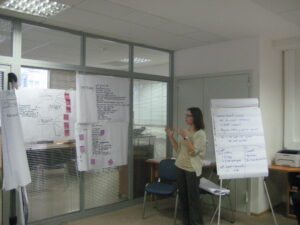 In Russia, gender equity has been addressed historically in all government policies and services. Even with decades of focused attention to this topic, inequalities in health services and programs still exist.  This resulted in an obvious gap in health outcomes between men and women especially ones suffering from HIV/AIDS and TB.
WI-HER developed training materials and tools in support of such efforts. In Russia, the curriculum focused on gender within the context of health care and the quality improvement process and was designed to sensitize HCI Russia staff to gender issues and build skills in gender analysis and addressing gender issues in program design, monitoring, and evaluation.
The HCI Russia staff concluded after the training that a more focused attention should be paid to involving men and boys considering their needs in designing, implementing and evaluating programs. The fact that gender considerations were not addressed affected identification of new cases, adherence to treatment protocols and prevention programs.