WI-HER's Work in Women's Empowerment: Nigeria Social Norms Learning Collaborative Conference
By Kenneth Goughnour, Program Coordinator
In mid-November 2021, WI-HER presented at the annual Nigeria Learning Collaborative Conference on Social Norms, highlighting our work in women's empowerment through USAID's Integrated Health Program (IHP).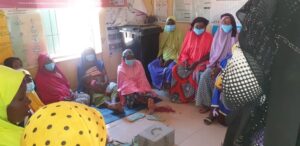 Through IHP, WI-HER is identifying gender barriers and facilitating sustainable solutions toward improved health for mothers and babies. WI-HER works in four areas of health looking at gender and social inclusion in Nigeria: women's, children's, and adolescents' health, as well as gender-based violence (GBV). Women's empowerment underscores all of these areas. Often, gender transformative programming, which addresses these barriers, focuses on the "demand" side rather than the "supply" side of primary health services. We are addressing women's empowerment from the supply side, starting with 10 primary healthcare facilities across 5 States in Nigeria.
WI-HER believes that health providers are uniquely positioned to partner with women in addressing harmful gender norms that thwart antenatal care (ANC) enrollment, facility births, healthy spacing, and positive health-seeking behaviors. Our theory of change is that if health providers use their influence to address women's empowerment, then women may be capacitated to claim greater agency toward service utilization and improved well-being. Three WI-HER Advisors presented on preliminary results from the Gender and Social Inclusion (GESI) Learning Lab initiative in Kebbi and Ebonyi States, demonstrating that the health system can be leveraged with facility-tailored solutions promoting women's empowerment and ANC access!