Nurses are the Backbone of Healthcare: Why There is an Urgent Need to Invest in Nursing
By Jackson Novick, Master's student in Public Health GWU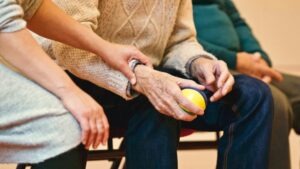 As front-line health care workers, nurses are uniquely positioned to respond to emerging threats, adapt care according to need, and provide essential recommendations that inform protocol and best practices across disciplines. Nurses are the most immediate point of contact for patients, ensuring that they feel listened to, believed, and confident in the individualized treatment plans they develop. Worldwide, these inestimable accomplishments are often achieved in spite of adversity and severely limited resources.
For the past two years, the COVID-19 pandemic has not only underscored the critical role of nurses, but has emphasized global weaknesses in the healthcare system's ability to protect them. Inequitable workforce distribution, insufficient resources, deeply-entrenched gender bias, and pay discrimination toward a women-dominated field, as well as the added stress of the pandemic, pose significant challenges to delivering care to patients and to the nurse's own wellbeing. The pandemic has highlighted the urgent need to invest in and prioritize nursing, to create stronger healthcare infrastructure, nursing education, leadership, and platforms in leadership for nurses. In accomplishing these goals, we will not only be prepared for the years ahead, but we will be respecting nurses' rights, health, and safety as they improve health outcomes for the populations they serve.
Compounding the challenges that face nurses, there is a global shortage of nurses, which existed even pre-pandemic—that shortage now totals six million. With established correlations between staffing and patient safety, as well as nurse workload, hospital-acquired infections, hospital mortality, and medical errors, this shortage represents a global public health hazard.
Nurses are the backbone of our healthcare system, accounting for more than half of all healthcare workers. Even so, the WHO recommends a proportion of 83 nurses per 10,000 people; the State of the World's Nursing 2020 report, which presented data from 191 countries, reported a global nurse density of 36.9 nurses per 10,000 people. Though a concerning figure, this does not reveal the disparities in the distribution of nurses worldwide. That report indicated that there are 10 times more nurses per 10,000 people in the Americas than in the African region. As summarized by the ICN, "some of the poorest countries in the world have the fewest nurses." To account for this demand, a significantly greater proportion of investments made in health care must be devoted to allowing for the prioritization of education, so that nurses capable of high-quality service delivery can be recruited and trained.
It is crucial that, in confronting these fragilities and failings in our global healthcare systems, we prioritize investment, and encourage education, in nursing.