Engaging Men and Women in Maternal, Child, and Reproductive Health: a Critical Need in Nigeria
By: Aisha Ahmed, Gender, Social Inclusion and Community Engagement Advisor, Sokoto State, Nigeria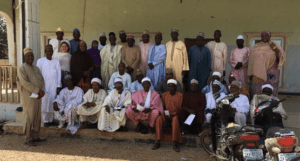 Cultural and traditional practices greatly affect women across different ethnic groups in Nigeria, and they especially influence maternal health challenges, particularly in Northern states where Sokoto is located. For example, women delay seeking care when their husband is absent. Today, Sokoto state has one of the highest rates of maternal deaths in the northwestern region of Nigeria.
A majority of maternal mortality cases can be attributed to factors such as cultural and religious influences and other social elements that affect individual preferences. Men play a major role in all decisions, including those related to health, but often do not see a need to educate themselves on these issues. Communication between couples is also poor, and men often do not give standing permission to women to visit the hospital in case of health-related needs. Their reasons range from not understanding the importance of a healthcare visit to fear of cost and mistrust of the health systems. Essentially, women cannot use health services without their husband's explicit permission.
In light of this, the need for male involvement in maternal and child health (MCH) as well as reproductive health is critical in order to improve access to health facilities and services with skilled providers. To address these challenges related to MCH and reproductive health, USAID Integrated Health Program (IHP) brought together traditional and religious leaders to discuss what the health-seeking challenges were, why they occurred, and what could be done to improve the health outcomes for women as well as men.
Throughout the interaction, something interesting was revealed: men have been engaged repeatedly, and they have some level of knowledge on the importance of seeking health services; meanwhile, the women have been left behind, and providers need to engage female caregivers, mother-in-laws, and women groups so that they also understand the importance of seeking health services. Once they have that knowledge they are better able to advocate for support for health services. The leaders also added that adolescent boys should be involved in the health discussions to not only empower them with health education while they are young, but so they can also serve as a support system for mothers and sisters within the system. As youth often live within the same community and marry amongst themselves, they can develop strong and holistic family health-seeking behavior.