Building Capacity and Resiliency in Refugees in Fragile Areas of the Middle East
By Allison Annette Foster, Vice President, WI-HER, LLC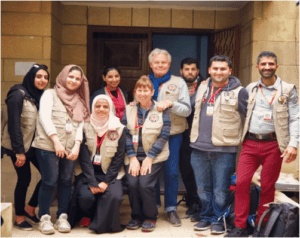 All refugees have mountains to overcome economically, psychologically, and emotionally. Some, like the Palestinians in Jordan, are well-entrenched in their new countries, with jobs and social networks, but still struggle with poverty and stigma. Others, such as those from Syria, have emerged from horrific experiences and bring trauma and fear. No matter where these refugees have fled from, and no matter what their needs may be, WI-HER is committed to helping the most vulnerable communities, including refugees from all backgrounds, to create a path forward to well-being and resiliency.
One common need among refugees is health care, as many refugees are struggling with non-communicable diseases (NCDs) such as heart disease and chronic respiratory infections. To give refugees the tools they need to take charge of their health, as well as to address the severe shortage of health workers and the critical need for specialty care, WI-HER – in partnership with clinical specialists in the US – developed a clinical capacity building training for health providers working with refugees and vulnerable communities. For instance, beginning in the spring of 2019, WI-HER partnered with Dr. Harb N. Harb to develop and implement experiential learning programs that provide on-the-ground training to physicians and nurses working in Syrian refugee camps, health facilities in Palestine, and border conflict zones.
This hands-on training is supplemented by on-going coaching and mentoring, supported through video conferences, and re-enforced through peer-to-peer support groups. WI-HER has also leveraged its network of NGO partners in the region and recruited private partners to initiate and lead this program. Not only does this program provide the tools refugees need to create healthy behaviors, it also sets them up for success as well as self-sufficiency to better manage NCDs.
As part of this program, WI-HER is now testing new systems for capacity building – both for physicians and refugees alike – and developing collaborative learning programs to overcome the unique logistic and social challenges faced in conflict zones and border areas, not only in Jordan, Palestine, and Syria, but also in Uganda, Tanzania, and Ethiopia.
During the COVID-19 pandemic, WI-HER quickly pivoted to adapt its training and coaching materials and tools for online platforms. Moreover, WI-HER linked with private sector and civil society organizations to overcome obstacles in order to continue serving these communities without interruption. In the process, WI-HER has built capacity among partners to support refugees and displaced communities in coping with the added challenges of illness, isolation, and service interruptions due to the COVID-19 pandemic.
Furthermore, gender-based violence (GBV) is of particular concern for vulnerable communities, especially women and children already living in fragile environments. WI-HER provides guidance to governments to more effectively coordinate GBV prevention and response services, and we build the awareness of health care providers and support networks on the vulnerabilities to and signs of GBV or gender-based risk. Our work aims to address the immediate needs of today while simultaneously building capacity of at-risk communities.
We are committed to supporting refugees from fragile environments with health care, among other services that meet their specific needs. Most importantly, we will continue to give them the tools to survive, thrive, and reach their full potential despite their circumstances and their past.