Adapting Tools and Considering Inclusion to Eliminate NTDs: Hirut's Story
By Sara Pappa, WI-HER Technical Advisor; Habtamu Bedasa, FHF Zonal NTDs Technical Advisor; Leta Balcha Damessa, FHF Program Manager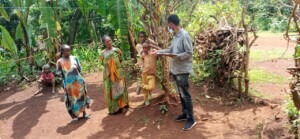 Attention to diversity and inclusion is critical to ensuring services and efforts to control and eliminate neglected tropical diseases (NTDs) are accessible, equitable, and reach those most in need. NTDs disproportionately impact those living in poverty and those that are more likely to be marginalized or excluded—often based on conditions of gender, age, ethnicity, religion, geographic location, or for Hirut, disability.
Hirut lives in a rural village in the Oromia region of Ethiopia. She is a married mother of eight children, and she is illiterate and lives with a hearing disability. Despite annual mass drug administration (MDA) for trachoma in her village—a critical preventive health measure—Hirut's hearing disability has prevented her from learning about MDA and its benefits, especially during the regular pre-MDA mobilization efforts in town. Because of this, Hirut has never participated in the annual village-wide service in the Abaya district. This particular district is highly endemic for the disease, which makes adherence to MDA even more critical for the health of Hirut as well as her family.
To better reach people like Hirut under USAID's Act to End NTDs ǀ East program, WI-HER LLC—together with RTI International—supported Fred Hollows (FHF) to adapt a tool intended for MDA supervision and assessment of coverage, as well as ensure that supervisors visiting households during MDA were able to discuss MDA accessibility with all members of the household. These visits also importantly allowed better assessment and identification of potential gender equity and social inclusion (GESI) barriers to MDA uptake or, in Hirut's case, access to information about MDA.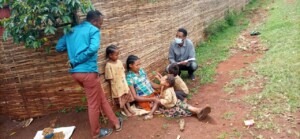 The tool, referred to as the Supervisors Coverage Tool (SCT) in its original form, is a simple questionnaire that allows supervisors to assess the level of MDA coverage in a given area, among randomly chosen households. The added GESI elements expanded on the initial questions and included a series of yes/no statements that enabled the supervisors to better identify, assess, and, importantly, document potential root causes for missing information about MDA or not taking MDA.
As reasons and root causes can often be related to issues of inclusivity, as well as other gender and equity factors, the additional questions were GESI sensitive. To roll out the tool, WI-HER collaborated with FHF and RTI to develop and facilitate regional, district, and zonal-level training content to strengthen GESI-related skills and capacities—not only to utilize the enhanced tool, but also to apply a more GESI-sensitive lens to the work of supervisors and others involved in MDA implementation.
According to Habtamu Bedasa, a Zonal NTDs Technical Advisor with FHF, the expanded, GESI-integrated SCT enabled supervisors to address all members of a particular household, and the GESI-related questions helped make the process more inclusive, which ensured that the critical preventive medicines reached everyone. Equipped with the enhanced tool, Habtamu was able to better counsel Hirut on the benefits of MDA, ensuring that she took the drugs in the current round, while also securing her commitment to take MDA in the future. In the coming months, the enhanced tool—along with initiatives to build local capacity to use the tool and address the GESI-related issues that arise from its use—will be used in again and in new areas.
Critically, however, the tool is just one piece of a larger effort to identify, address, and effectively integrate considerations of inclusivity, as well as gender and equity, in the NTD response in Ethiopia, particularly around MDA. Without this attention and integration, NTD efforts may fall short of truly reaching entire communities and those most in need, such as Hirut.