A Step-by-Step Path to Locally Led Solutions: The iDARE Methodology
When local teams in Kenya worked on improving the identification and management for survivors of gender-based violence (GBV) in health facilities, they designed and implemented their own solutions. These co-created solutions resulted in supporting more GBV survivors, increasing the monthly average by 642% in just 10 months. What makes this success even more remarkable is that it occurred during the COVID-19 pandemic, when various lockdowns and restrictions were in place.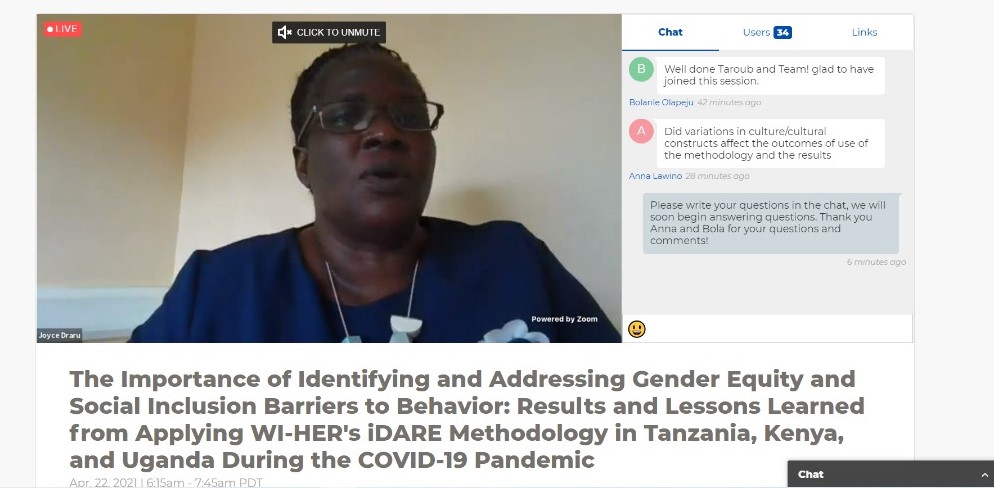 Successes like these are not uncommon when an innovative, improvement science-based methodology known as iDARE is implemented. iDARE was originally created by WI-HER Founder and President Dr. Taroub Harb Faramand, and the five-step process (Identify; Design; Apply/Assess; Record; and Expand) can be used in many different contexts to understand behavioral, sociocultural, and contextual factors related to complex development challenges. In fact, various local communities, facilities, and governments have utilized and institutionalized iDARE to address various health outcomes based on the specific needs of a community or place.
For instance, most recently, WI-HER supported three different USAID-funded projects and respective local governments to accomplish the following through the use of iDARE:
Increased viral load suppression for men, youth, and children in Uganda;
Improved access and uptake of mass drug administration among school age children to address neglected tropical diseases in Tanzania; and
Increased identification, management, and response for GBV survivors in Kenya, as previously mentioned.
The reason iDARE works in so many different contexts is because it provides a step-by-step path for communities and governments alike to identify, design, and implement local solutions to local problems. For additional details about iDARE implementation in various contexts, read more in the Global Health: Science and Practice Journal field action report, "Applying the iDARE Methodology in Uganda, Kenya, and Tanzania to Improve Health Outcomes During the COVID-19 Pandemic."
---
Founded in 2011, WI-HER is committed to enabling individuals all over the world to create locally-led solutions for sustainable and equitable development. We work with international and local partners to implement and institutionalize iDARE, which has proven critical to local teams to identify local challenges and develop and implement local solutions. To date, we have completed successfully-led projects in 56 countries. To read more about our history and mission, please visit our website.